Ruling party expected to hold on to power in first election since strongman Meles Zenawi died in 2012 but opposition groups complain of persecution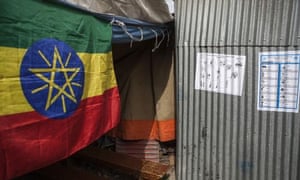 Ethiopians are voting in national and regional elections – the country's first since the 2012 death of its longtime leader – with the ruling party expected to maintain its grip on power.
More than 38 million voters are eligible to cast ballots on Sunday. Some opposition groups had threatened to boycott the vote, saying their members were being harassed and detained – charges the government denies.
The prime minister, Hailemaria
Ethiopia
is a federal parliamentary republic, with the party or coalition that wins the most seats in the 547-seat parliament forming the government. All seats were at stake on Sunday, as well as local offices, but Desalegn is expected to remain in power.
In 2010, the ruling Ethiopian People's Revolutionary Democratic Front won 99.6% of parliamentary seats. Only one opposition lawmaker won a seat in an election that monitoring groups said was marred by intimidation and the harassment of opposition activists.
Human Rights Watch called that victory "the culmination of the government's five-year strategy of systematically closing down space for political dissent and independent criticism".
Those allegations have persisted for this year's election. The government has denied the claims, accusing the opposition – and neighbouring Eritrea – of plotting to disrupt the vote.
"We remain vigilant and confident that the general election will be peaceful, free and fair, notwithstanding destabilisation attempts that may be tried by Eritrea or its local emissaries, which we will respond to with stern measures," Desalegn said on Thursday.
More than 45,000 polling stations will be open, with nearly 250,000 election observers assigned to monitor them. The National Electoral Board of Ethiopia said provisional results are expected in a week but final results will not be released until 22 June.m Desalegn – a former university professor – has been leading the country since the
death of strongman Meles Zenawi
, who built the ruling coalition into a powerful political organisation, while opposition groups complain of persecution.